Last Updated on October 6, 2023
Artificial intelligence (AI) can simply be defined as the ability of machines to perform tasks normally associated with human intelligence, such as learning and problem-solving, and also become a trending topic these days. AI research can be recommended for you in solving a wide range of problems that you have, game playing, medical diagnosing, and the things that you want to know. So, the world's biggest change has started with the arousal of Artificial Intelligence. Using Artificial Intelligence has become a trend now due to some advantages of using it.
Why AI is booming nowadays?
As we all know, now, the modern and best technology that most people are using is Artificial Intelligence, and the availability of big data, improved algorithms, and potential for transformative applications in various industries have become major facts of booming Artificial Intelligence. So, Artificial Intelligence is being used for,
Virtual assistants
Self-driving cars
Fraud detection
Medical diagnosis
Chatbots
Content moderation
Product recommendations
Robotics
Gaming
Areas of artificial intelligence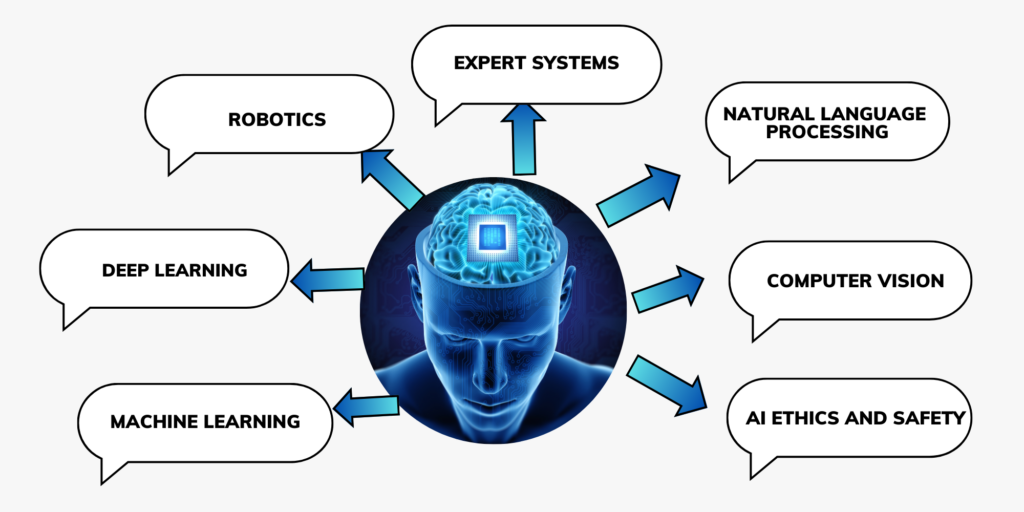 The Rise of Artificial Intelligence
Since 1950, AI has been developed and it has become a trend now. Especially with ChatGpt. You can go through the following facts to know how AI is being developed.
1950: Introducing "Computing Machinery and Intelligence"
1958: developing the perceptron, a neural network model.
1965: developing the General Problem Solver, a computer program that can solve a wide variety of problems.
1972: developing a chatbot that can simulate conversation with humans.
1981: developing the Hopfield network, a neural network model that can be used for pattern recognition.
1982: developing the backpropagation algorithm, a neural network training algorithm.
1997: a chess-playing computer
2006: ImageNet, a large-scale image database.
2012: developing a deep learning algorithm
2020: GPT-3, a large language model developed by OpenAI, is released.
Who lost their jobs with Artificial Intelligence?
Data entry clerks – AI-powered automation tools are capable of performing many of the tasks that were once done by data entry clerks with enhancing accurate and efficiency.
Telemarketers- AI chatbots are also capable of answering the questions that the customers have to ask and know.
Truck drivers – Because of the self-driving truck which is powered by Artificial Intelligence, truck drivers are going to lose their jobs.
Factory workers – AI-powered machines are being used in the factory and as a result of it, factory workers are at the risk of losing their jobs.
How to use artificial intelligence in medical science
Artificial intelligence is being used in medical science nowadays. The following things can be used if you hope to use Artificial intelligence in medical science.
Some diseases are very hard to recognize with medical tests. So, at that time, now, many people found some new methods to use for diagnosing medical issues. AI can diagnose diseases by analyzing medical images and data. It is very easy to do.
Using AI technology for identifying new drugs has become a new trend now and it is ideal for drug discovery.
---
AI is being used to decide treatment plans for patients based on their medical history and AI-powered systems are the best choice for identifying the patients who can benefit from a specified drug or treatment.
---
How to use AI in vehicles
Advanced driver assistance systems (ADAS)
If someone uses advanced driver assistance systems (ADAS) in their vehicles, it will be an ideal solution for avoiding accidents and also special thing is the automatic braking system. It has enhanced the safety of AI-powered vehicles.
Self-driving cars with AI-powered technology control the car with steering, braking, and accelerating Also if you use an AI-powered vehicle, it is featured with a map and it recognizes the background and objects like pedestrians and other vehicles.
In-vehicle entertainment and infotainment
AI-powered vehicles are used for music, podcasts, or news for entertainment.
What are the best applications used with artificial intelligence?
ChatGPT
Bing
Facetune
Lensa
Alexa
Siri
Socratic
Cleo
Youper
Otter.ai
ChatGPT is an AI-based chatbot and this is one of the popular AI chatbots that is used to create written content, like articles, emails, scripts, essays, and code.
Microsoft Bing is known as a search engine for exploring the web, but it is also unique in that it can be used as a chatbot to respond to questions, produce creative text and images, and translate and proofread writing in multiple languages as you need.
Facetune is a popular one for editing photos and videos and it also features with Avatar generator The AI-powered Facetune app is used for making skin touch-ups, whitening teeth, adding makeup, and altering face shape in your photos or videos.
Alexa can be introduced to you as the AI voice assistant to make lists, set alarms, order products online, and more.
AI-related devices
---
Amcrest 5MP IP PoE AI Camera
The uniqueness of this AI bullet POE IP camera is human and vehicle detection, IVS features that notify only when a human or vehicle passes through the specified area and does not make unnecessary notifications.
---
Entry Door Lock Artificial Intelligence Electronic Handle Lock, for Home Security
In this Entry Door Lock Artificial Intelligence Electronic Handle Lock, you can unlock it in 4ways such as support fast fingerprint opening, password opening, IC card opening, and emergency mechanical key opening door. So, this AI-powered entry lock can be a safe method that you can use.
---
Amazon Fire TV Stick with Alexa Voice Remote (includes TV controls)
Amazon Fire TV Stick with Alexa Voice Remote is featured with Alexa Voice Remote with power and volume buttons and the special thing about this Alexa Voice Remote is allowing you to use your voice for searching and launching shows across apps.
---
Brilliant Smart Home Control (4-Switch Panel)
Brilliant Smart Home Control (4-Switch Panel) is featured with Alexa Built-In and compatible with Ring, Sonos, Hue, Google Nest, Wemo, SmartThings, and Apple HomeKit — In-Wall Touchscreen Control for Lights, Music, & More and also it has been designed to make it easy to control lighting, music & camera. lighting, music, cameras,
---
Other AI-related devices that you can use
Smart Speakers:
Smart Displays:
Streaming Devices:
Home Security Cameras:
Robot Vacuum Cleaners:
Smart Thermostats:
AI-Powered Headphones:
Wearable Devices:
Smart Home Hubs:
AI Cameras:
---
Disadvantages of Artificial Intelligence
Although Artificial intelligence (AI) is a rapidly developing technology, there are some disadvantages too. But, now using AI is the best-trending technology that most people try and also artificial intelligence is being used in many areas. But, when we look at deep, there are some disadvantages that we can see.
Because of using Artificial Intelligence, many jobs have been lost and they are being operated with machines. So, many workers have lost their jobs.
Although AI creates content very easily, the creativity that is used is very low, because, Artificial Language creates things with predictions based on algorithms and training data. So, it can badly affect the creativity.
Artificial Intelligence is being used by many people. So, they do not try to create their own creations, So, people will lose their skills.
Ethics is the most important one of the humans. So, computer-based algorithm or tech item is not capable of working under ethics, it also can badly affect humans.
Increasing Human Laziness