Last Updated on October 6, 2023
Mobile technology is the conversational technology in modern society 2023 and with the induction of mobile technology, it is used to communicate with each other, play, and work this technology can also be used for wireless devices like smartphones, tablets, and wearables. Now modern mobile technology has succeeded to Artificial Intelligence. Modern technology is mainly operated with AI-generated convenience that you can make your work easy to do when you engage in mobile devices. Modern technology has had a major impact on a variety of industries, such as healthcare, transportation, and manufacturing. As a result of modern technology, mobile technology is also increasing. The following review will explain to you the things that you should know about mobile technology.
---
---
History of mobile technology
The history of mobile technology is a captivating one when we look back and it is highly noticed the innovation and progress of mobile technology. By the time in the past, bulky analog phones have been converted to the sleek and powerful smartphones in the modern world. Mobile devices are the ideal devices for communicating, working, and living.
When we look at early mobile phones, they were very large and heavy. In that case, it was very hard to carry and use. Another disadvantage of early mobile phones is accessibility to a small number of people and they were also very expensive. So, many people didn't have mobile phones and the communication method was in very poor condition in the previous eras.
The smartphone industry has been developing steadily and very rapidly since 2008, with a huge number of market sizes models, and vendors. By the end of 2022, 68 percent of the world's population will be smartphone users, and this growth is evident. By the time 2023, it has been changed, and counting the number of smartphone users, the number of global smartphone users is estimated at 6.9 billion in 2023 and is expected to increase to 7.7 billion by 2027.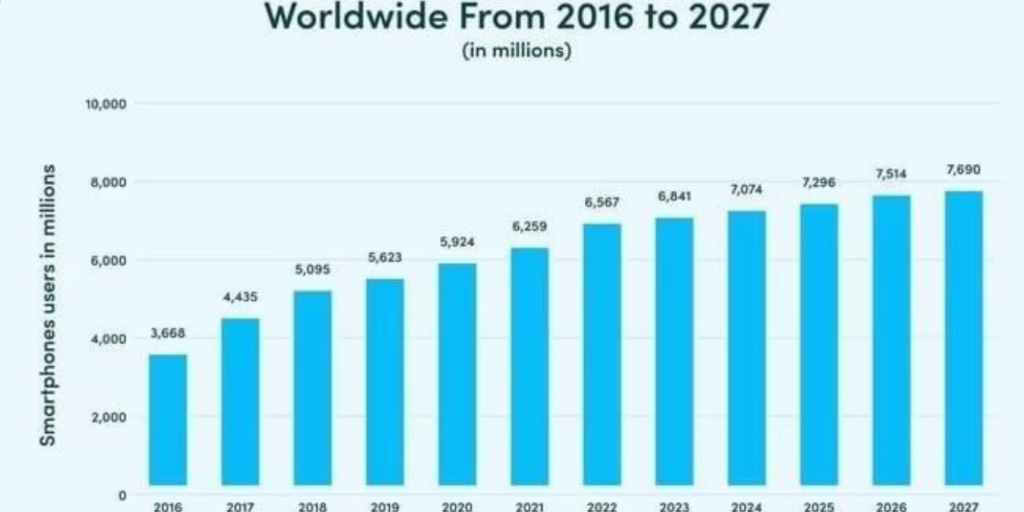 According to the above-mentioned bar graph, it is very clear that the amount of using mobile phones is increasing day by day. So, by the time now, mobile phones have become an indispensable item among the people. You can read the following description to get the more details about mobile technology.
---
Current state of mobile technology
The current mobile technology is hotly amplified and now, introducing special advancements has been a trend, as an example, come back Apple iPhone 15 can be introduced to you. The following description will highlight about the current state of mobile technology.
5G mobile network
5G is known as the 5th generation mobile network and before the induction the 5G technology,4G was the best mobile network that you could use, but, now, 5G is becoming more and more popular, the following things can be seen as the differences between 4G and 5G.
5G is faster than 4G
5G is filled with more capacity than 4G
5G has a lower delay than 4G
5G is an integrated platform that is more capable than 4G
Expedition of 5G -As you all know, 5G is the next generation of wireless technology, and there is no doubt, that 5G has faster speeds than 4G LTE5G has been designed to deliver data rates up to 20 Gbps based on IMT-2020 requirements which typically range from 50 to 100 megabits per second (Mbps). If you are using 5G, you can enjoy the following advantages,

You can download a full-length HD movie in seconds
streaming 4K video without buffering
Playing online games without barriers
Giving the crystal cleared clarity for the video calls
Artificial intelligence (AI) – Using Artificial intelligence is the modern trend of mobile phone technology. It has been very easy to do your tasks as you do not need to worry about anything if you have the best Ai generated mobile phone with you. AI is being used in a wide range of areas like that I have mentioned below,

Improved camera performance
Voice assistants
Personalized recommendations for apps, music, movies, and other content.
Spam and fraud detection
Detecting and blocking malware and other security threats.
Battery life optimization.
Augmented reality (AR) – Augmented reality (AR) is the best technology that helps you to convert digital information into the real world. AR is being used in mobile technology in several ways, including:

Gaming
Navigation
Shopping
Education
Social media
Virtual reality (VR) – Virtual reality (VR) is a simulated experience that employs pose tracking and 3D near-eye displays to give the user an immersive feel of a virtual world. Applications of virtual reality include entertainment (particularly video games), education (such as medical or military training), and business (such as virtual meetings.
---
The future of mobile technology
6G mobile network – 6G can be introduced to you as the next generation of mobile technology and it is under development yet. 6G is also expected to succeed 5G after the success of the 5G mobile network. We can expect many improvements with the comeback of 6G mobile networks in terms of speed, latency, and reliability.
Foldable and wearable devices – Foldable and wearable devices are the best trend in mobile technology at this time. Foldable devices will offer you a smartphone with the screen size of a tablet, while wearable devices offer a hands-free method to access information and stay connected when you want.
Mobile technology is transforming education– Students are increasingly using their smartphones, tablets, and laptops to learn inside and outside the classroom. This is leading to a more personalized and engaging learning experience.
Mobile apps – When we go through mobile apps, they provide us a chance to enjoy areas and get more advantages, so, typically, mobile apps are used to communicate with each other, stay entertained, be productive, and more. Mobile apps are software applications and they have been designed to run on mobile devices like smartphones and tablets. If you want to enhance your mobile phone experience, you can download it from an app store. The Apple App Store or Google Play are available for fulfilling your experience when you use your mobile device.
---
Advantages of Mobile Technology
Nowadays, mobile technology has become an indispensable part because of the benefits it provides to those who use it in their daily lives. It has already opened up many opportunities for agile and forward-thinking businesses. It can be clearly stated that the use of mobile technology combined with SaaS platforms and cloud-based infrastructure for remote data access has been able to streamline processes while reducing costs and maintaining productivity across the entire enterprise workforce.
Benefits of mobile technology for business and entrepreneurs
Scalability
On boarding
Cloud-based development
Edge computing
Scalability
Enterprise mobile technology has reduced the costs associated with fixed device and infrastructure replacement cycles and allowed powerful devices to be used in a portable manner, making this even more efficient, eliminating the need for employees to access multiple workstations, and keeping all data and communications in a single location. Because it is centralized to a device.
Onboarding
It stands to reason that mobile technology can significantly improve the onboarding process for both employees and companies by centralizing all data and information on a single device. This gives new employees access to everything they need to be a productive part of the team, while also allowing them to use the technology of their choice and making it easier to work together with them.
Cloud-based development
A workforce powered by cloud and mobile technology means development can happen anywhere, it's simply obvious. This opens the door to creating a diverse global workforce.
Edge computing
Edge computing contributes to increased productivity across distributed IT infrastructures as it allows mobile devices and IoT technologies to process data in or through a local server.
---
Mobile technology has been possible to change the way you live and work. So, if you are using smartphones, it is important to be aware of the latest trends in 2023. If you have a very clear understanding of the latest trends and developments in mobile technology, you can engage in the modern world without any barriers to the devices and apps that you use daily. I wanted to make you encourage to stay up-to-date on the latest mobile technology trends available in the world and also encourage you to engage the efficient devices available in the correct method. So, you can read this full review about mobile technology and the trends in 2023, and do not forget to comment on your idea below, it will be helpful for me to keep on writing.