Last Updated on October 27, 2023
Halloween festival is a very funny and popular festival nowadays. Halloween decorations, Halloween costumes, Halloween carve pumpkins, go trick-or-treating and more specific things can be seen on Halloween party time. Halloween festival is a wonderful holiday and it is celebrated on October 31 every year. The Halloween festival 2023 is also coming soon. Children especially like for this Halloween festive period. Because they can have more fun with their family and friends with colorful Halloween costumes, candy, and Halloween decorations.
---
---
Halloween's origin and history run to the past. Halloween originated in the ancient Celtic festival of Samhain. That depicts end of the harvesting period and dark, cold winter. The Celtic believed that the boundary between living world and dead can be broken down and they could come to the earth. So, they thought to wear as ghosts and started to dance around a bonfire to drive away bad spirits. Ancient people had an idea that when they are behaving as ghosts the dead spirituals were afraid of them. This tradition came time by time by combining different cultural events.
After the Roman Empire conquered the Celtic lands, Halloween festival mixed with their Feralia and Pomona with Samhain. The Feralia was a day to honor dead and the Pomona is the goddess of fruits and trees. Apple is the symbol for this Pomona. The tradition of bobbing Apples came through that culture to Halloween.
Then in the 8th century, Pope Gregory III declared November 1 as All Saints Day, to honour their all Saints. The night before All Saints' Day was called as All Hallows Eve, or Halloween. Some customs of Samhain joined with the Christian celebration. And in the 19th century many immigrants like Irish and Scottish came to North America and their different cultural events mix together with the Halloween festival. Then Halloween became a commercialized, popular and, funny festival.
---
Why is Halloween celebrated?
Halloween is very famous festival on nowadays. It has a very long history to the past. Halloween is combined with many cultural events and customs. So, there are many reasons to celebrate Halloween. Specially kids are very interesting to have a fun during Halloween day. They like to dress up colourful Halloween costumes and enjoy the day.
The main reason to celebrate Halloween is the historical and cultural background of the Halloween festival. Halloween history runs back to the ancient Celtic festival of Samhan. That festival marks the end of the harvest and beginning of the cool, dark winter. So, people celebrated this festival by wearing ghosts like costumes to ward off dead spirits. Nowadays also more people celebrate Halloween believing these traditional ideas.
But at the present, Halloween became as a very funny festival for all. So people try to enjoy their lives with family members and friends. People celebrate this Halloween to show off their creative ideas for others. Today, Halloween has become as only a funny and enjoyable event. So people wear various scary and funny costumes during Halloween and have fun by relaxing their mind-sets. Halloween decorations, enjoyable parties, playing games and more funny activities can be seen during Halloween festival time. So, now Halloween completely turned into a fun, and festive occasion.
---
Halloween decorations are very famous during Halloween festive time. They really help you to decorate your home and yard wonderfully. You can add amazing spooky flair to your home and garden with beautiful, scary Halloween indoor outdoor decorations. Specially, pumpkin carves, skeletons, spiders, spider webs, bats, lanterns, string lights, and more can be used to decorate your home and yard for Halloween festival. Normally, orange, black, white and purple colors are commonly used for Halloween decorations. You can find out various types of Halloween indoor and outdoor decorations on Amazon market. They can help you to decorate your home and yard with a great Halloween look. Here, I have picked some best Halloween indoor and outdoor decorations for you.
---
Halloween indoor decorations ideas 2023 for you
Halloween bats decoration
Comes 60 bats in different sizes, such as 10pcs 12.6×3.5in, 10pcs 9.4×2.4in, 30pcs 7×1.6in and 10pcs 6.3×3.2in for your indoor decorations. You can stick them on anywhere within your home like a bookshelf, cabinet, on walls, windows and on more places to take spooky and mysterious look. They feature with waterproof quality. These Halloween bats comes with adhesive strips, so you can stick by placing adhesive on the back of the bats. These Halloween bats will make your Halloween party as an amazing one with their look. They can be attached even on smooth and rough surfaces. You can give a look of haunted house to your home with these Halloween bats. You can see more details here.
---
Halloween spider with lighting eyes
It is a very huge hairy black spider. If you want give a very scary and ghostly look for your home this black hairy Halloween spider truly suitable for you. It comes in 4 feet in size and has lighted up red eyes. It features with black fur and you can adjust its legs too. The hairy skin has given a real look for it. You can hang it anywhere in your home with its adjustable long legs.It is durable and made with metal. It is very matching for decorating your Halloween party to give scary and spooky look. You well feel that you are living in a haunted house with this giant Halloween spider. You can see more details from here.
---
Crazy Bonez Skeleton
Halloween skeleton is very famous among Halloween decorations. It is very similar to human skeleton with 5 feet. It comes with water and weather resistance feature. It is made up with durable all weather-plastic. It can set in different positions as sitting position, standing position and more. Features with movable arms and joints. This Crazy Bonez skeleton is very suitable for you to make very scary and spooky surround for your Halloween party. The amazing feature is it has movable bones like real human being. You can see more details here.
---
Hanging Witch Decoration
Hanging witch decoration comes with lighted-up eyes and talking features. It can produce creepy scary sounds to make a very ghostly surround for Halloween day. It is large 72 inches in size. So it is very attractive and noticeable. You can easily hang it within your home as indoor decoration. This Hanging Witch can give a scary look for your Halloween events. Its lighted-up eyes and black cloak give a real spooky look to her. The talking witch will be a great hanging decoration for you. Visit here for more details.
---
Halloween Party Mist Maker
Halloween mist maker will help you turn your Halloween party into an amazing one with spooky feeling. It creates mist without chemicals with an ultrasound. It comes with different colors lights such as red, yellow and blue. The colourful flashes can give an amazing look to your Halloween party. This Halloween fog maker has waterproof nature. So, you can place it even within water with 40~80mm water depth. It can make your party as a ghostly occasion. Very easy to handle and maintain and it needs only 24V power supply. You can see more details here.
---
Halloween Flickering Candles
Comes in three different creative decals such as black spider on web, human skull and black bird crow raven. It is made up with high quality real paraffin wax. Its diameter is 3 inches and height is 6 inches. They can add horror and ghostly atmosphere for your Halloween day. Features with 6-hour timer. The switch can be seen under the candle. When time mode is on it lights up for 6 hours and switches off after 6 hours automatically. It is very safety, because it hasn't any dripping wax and smell. So this Halloween flickering candles will be an amazing decoration for your Halloween. You can see more details here.
---
Halloween outdoor decoration ideas for you
Halloween Pumpkin Lights
Comes with a beautiful orange color and orange light. Its flicker and steady modes can be controlled with the remote. Steady mode gives you very bright orange light. Halloween pumpkin lights can decorate your yard in a spooky way. You can operate these pumpkin lights about 6m meters away with the remote. You can place them anywhere to light up your garden. Just want to place them on Halloween Pumpkin Lights to light up. It very safe for even children, there is no dripping wax and flame. They are made up with plastic and portable. You can see more information here.
---
Halloween spider webs decoration
It is a perfect Halloween outdoor decoration. It's a whit cob web and can cover about 900 sq ft. This Halloween spider web comes with extra 30 fake black spiders. It can give a haunted house look to your home and yard. It is ultra-stretch and made with very soft materials. So, it is very flexible, you can make its shape as you need. Durable and has more realistic look. It can give a scary, spooky look to your Halloween party. Visit here to see more details.
---
Halloween String Lights
Halloween string lights has the shape of pumpkins. Features two modes as flicker and steady. Has charming orange color light and 3D look. Sting is made up with sturdy plastic and 20 LEDs. These 20 pumpkin lights string can give a ghostly and mysterious look to your yard with bright orange color. It features with waterproof nature and they are energy serving. So, very suitable for outdoor decorations. It is batter powered and no need to worry about pluging to an electricity source. The laughing pumpkin add an amazing look for your Halloween party. You can see more details here.
---
Halloween lanterns
It is made up of glass and iron with a stunning look. Come with a wide range of colors. Features with 6-inch floral embossed glass cover. Halloween lantern is very suitable for attaching to a pillar or hanging with a chain. It finishes with metal so, it is durable. Comes with nice shape and height measurements 4 3/8″ x 3 5/8″ x 10 1/2″ tall, 11 1/2″ tall with loop. Halloween lantern weigh 1.1 pounds and it can add extra mysterious look to our outdoor area in Halloween festival. So, Halloween lanterns will help you to make a beautiful surround. Visit here to see more.
---
Halloween Witch Hat Lights
Halloween witch hat lights comes in four different colors, such as orange, red, purple and green. They are upgraded with new different looks. Witch hats feature with cob webs, pumpkins, spiders, bats pattern on them. Very colorful and the witch hat lights string long 44ft. Made up with polyester. Comes with brighter 104 lEDs, and 8 lighting modes. You can easily switch into different 8 lighting modes to give wonderful and spooky look to your yard. Very easy to hang them as outdoor decoration and comes with eco-friendly wires. You can see more details from here.
---
Halloween DAZONGE
It's a nice Halloween outdoor decoration. You can decorate your entryway or porch with this Halloween décor. Very easy to decorate with it. The text "trick and treat" is decorated with many Halloween bats, spider webs, skull and witches. They are made up with polyester, so they are durable and washable. It can add extra spooky and beauty to your Halloween party. They are very easy to hang to decorate your entryway, porch, door and more places. Comes 70''x13'' in size as a ribbon. It can welcome your guests warmly. See more details here.
---
Halloween Indoor and outdoor decorations
MACTING Halloween Spider Web
This is a giant spider Halloween decoration. A Giant black spider comes with extra small spiders. MACTING spider web comes with 16.4ft in size. The spider web is made up with thick polyester ropes. Features triangle shape spider web with purple lights. It has two types of lightning modes that can enhance your Yard in Halloween. Stretchable spider web and the big spider gives very spooky look. It comes with two red scary eyes and hairy skin. Suits for both indoor and outdoor. It is durable and weather resistance. It is lightweight and very easy to handle. You can add spookier look to your Halloween party. See more details here.
---
Halloween floating Candles with Magic Wand Remote
The electric LED light floating candles comes with amazing magic wand remote. You can decorate your both indoor and outdoor with these floating lights. They like magic, because they can light up quickly with the magic wand. So, these Halloween floating candles can give a very strange look to your Halloween party. They come with 4.9ft fishing line that is rarely visible and very easy to hang them. The 3D realistic candles emit a warm light. It is battery powered and can be used for until 200 hours. So, you can enjoy your Halloween with them. Click here to see more details.
---
Halloween Skull Décor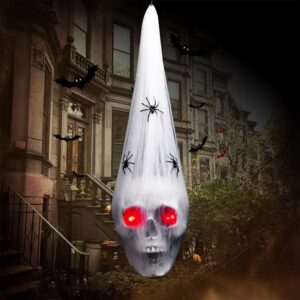 The Halloween skull decor features realistic red color eyes. Can add a great spooky look to your Halloween party. It features voice control system. And this skull decoration is built with sensors. When people are walking near it, the skull can give scream sound. So, you can use it to give a horror look to your Halloween. Best for haunted house look. You can hang it with the hanging string in yard, or house. It is made up with durable premium plastic and gauze cloth. Lightweight and very soft texture. And this skull is giftable in Halloween. If you want to see more details, you can visit here.
---
Quick links
Here are some other indoor and outdoor Halloween decorations available on Amazon for you.
So, I picked the best and top-ranking Halloween indoor and outdoor decorations for you. When we remember the name Halloween, colorful Halloween decorations come to our mind at once, because Halloween festival is complete with these amazing and spooky decorations. When you are selecting Halloween decorations, considering about colors is a must. You can enjoy your Halloween with colorful and spooky Halloween decorations.